Online and physical stores are gearing up to deliver the best deals during Black Friday 2020 (you can also have a look at the last year's deals). Even if it's planned for the 27th of November, during this month a lot of brands and businesses have started to discount their products. If you are a musician, a DJ, a music producer, or just a music enthusiast, here are some of the most interesting deals and discounts for music gears and more.
Beatport discounts
Beatport is offering up to 30% discounts on your purchase. If you spend $ 20+ you can have a 10% discount with SAVE10 code, 20% with SAVE20 if you spend $ 40+, and 30% with SAVE30 with over $ 60 of purchase.
Software and Plugin
Ableton Live 10 price down by 20%
Even if it's not part of the Black Friday deal, Ableton is offering its products with a discount of 20% on the final price. The deal is so much interesting not only because you'll be able to buy the latest version of one of the most famous DAW but also because you'll receive the free upgrade to Ableton live 11 once it will be out. Ablet Live 10 Suite is now available at € 479 instead of € 599 with the free upgrade to version 11 once available. Have a look at the deal here.
iZotope price down by 60%
The software house designs award-winning software, plug-ins, hardware, and mobile apps powered by the highest quality audio processing, machine learning, and strikingly intuitive interfaces. For Black Friday they're cutting day the price of almost everything. Ozone 9 and Neutron 3 have applied a 60 % discount with the Tonal Balance Audio at a special price of $ 299 instead of $ 699. Not only discounts but, if you buy an iZotope product you'll receive for free their plugin Vinyl: use classic, vintage Vinyl tones alongside your favorite audio software tools. Have a look at the deal here.
Soundtoys (end December 3rd) price down by 60%
The famous Soundtoys is cutting in half its prices offering the full rack of audio effects (Saturate, compress, and distort with Decapitator, Radiator, and Devil-Loc) at $ 229 instead of $ 499. The effect rack only has a discount applied that cut in more than half the price, from $ 299 to $ 129.
Melodyne 5 essential price down by 50%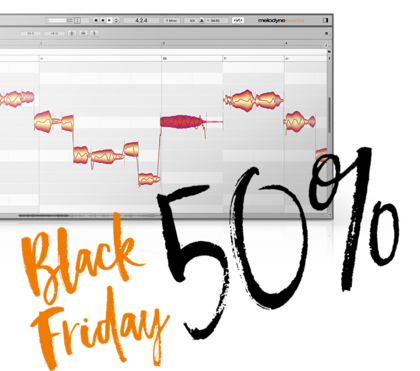 Melodyne allows you to edit audio in a more musical way than was ever thought possible. In Melodyne, you work with notes – and not with a meaningless waveform. The price is now down to $ 49 and you can also update and upgrade to a better version saving at least 30 %. Have a look at the deal here.
Output Audio price down by 35%
The entire Output catalog is down by 35 % with the Bundle now at $ 552 instead of $ 2510. It includes 10 engines and 22 expansions for a complete music production experience. It contains instruments and effects that can also be bought alone. Have a look at the deal here.
Serato price down by 35%
For Black Friday the famous DJ software, Serato is cutting in half its price for the Studio and Sample edition. The Serato Studio now available for $ 60 includes 32 scenes, Unlimited decks, and audio tracks, Full automation, Access to all sound packs, Free iZotope plugins, and much more. Unfortunately, Serato DJ is not on sale.
Waves Audio
As every year the famous Waves Audio is offering massive discounts for Black Friday. At the moment the Early Bird bonuses are active with 30% off on the second plugin both, 40 % off on the third, and 50 % on the third. Plugins are also at crazy prices with, for example, the CLA-2A compressor off by 84 %. Another great price is the SSL 4000 collection at only $ 129 instead of $ 749. They're also offering the new CLA plugin for free here.
Sample packs
BVKER
The Black Friday Bundle 2020 comes with 4 of BVKER biggest packs adding up to a total of 2925 files and 3,91 GB. You'll get everything from drum one-shots, over melodic loops, MIDI files, and Serum presets. An incredible offer considering they're selling at $ 20 instead of $ 160.
Loop cloud
The famous loop portal is giving away 3 months of subscription for only $ 3 that include also the Loopmasters Bass Master Plugin for free. The subscription includes also, 1 GB Loopcloud Sample Pack, Access to 4 Million Sounds, and more. Check this link
Loopmasters
The website has a huge selection of sample packs with a 60 % discount already applied. if you're into house and tech-house, the Toolroom tech House pack is now available for only € 20 instead of € 50. For techno lovers, the whole Abstract Sounds catalog is on sale starting at around € 2 per pack. You can check more about the prices on Loopmasters website
We're updating the page with more deals. Reload to see them.