Tropical storm on Wednesday, Nicole is expected to intensify into a Category 1 hurricane as it moves toward Florida. Electric Daisy Carnival has issued a warning but the weather forecast suggests most of the storm should have been passed once gates will open at EDC Orlando.
Nicole is forecast to become a hurricane on Wednesday when it is near the northwestern Bahamas, and remain a hurricane when it approaches the east coast of Florida – the National Hurricane Center
Hurricane Nicole and EDC Orlando 2022
Electric Daisy Carnival EDC Orlando is the second biggest EDC festival, after the flagship event in Las Vegas. It runs for three days this weekend, from Friday the 11th to Sunday the 13th at Tinker Field, Orlando. More than 150 artists are scheduled to perform at EDC Orlando 2022 including Martin Garrix, Afrojack, DJ Snake, and more. For this year's edition, EDC Olrnaod has set up six stages with music genres spanning from dance-electronic, techno, and hardstyle.
Hurricane Nicole will make landfall on Florida's east coast
Once more, a hurricane is preparing to make landfall in the state of Florida; this time, it will be an uncommon strike in November that prompted a hurricane warning along much of Florida's east coast on Tuesday.
Landfall might happen as early as Wednesday night midway between West Palm Beach and Melbourne, Florida, and is anticipated to happen before dawn on Thursday.
According to local officials, mandatory evacuation orders for more than 52,000 people were set to take effect in several areas of Florida's Palm Beach County on Wednesday.
In the afternoon on Tuesday, Tropical Storm Nicole, which had sustained winds of 60 mph, was roughly 420 miles to the east of West Palm Beach and moving at a speed of 9 mph in the direction of the west. By the end of Wednesday, Nicole is anticipated to become a hurricane.
Insomniac's press release about Electric Daisy Carnival Orlando and hurricane Nicole
In a communication to the public, EDC announced that they're keeping a close eye on the situation and are monitoring the evolution of the storm with the local authority.
Headliners, we are aware of developing weather conditions in the Florida region and are actively monitoring with assistance from the national weather service. Safety is our number one priority.

At this time, conditions are favorable for EDC this weekend and most storms are expected to pass by the time we open doors for everyone. We can't wait to dance with you under the electric sky at EDC Orlando. We will continue to update you if there are any changes.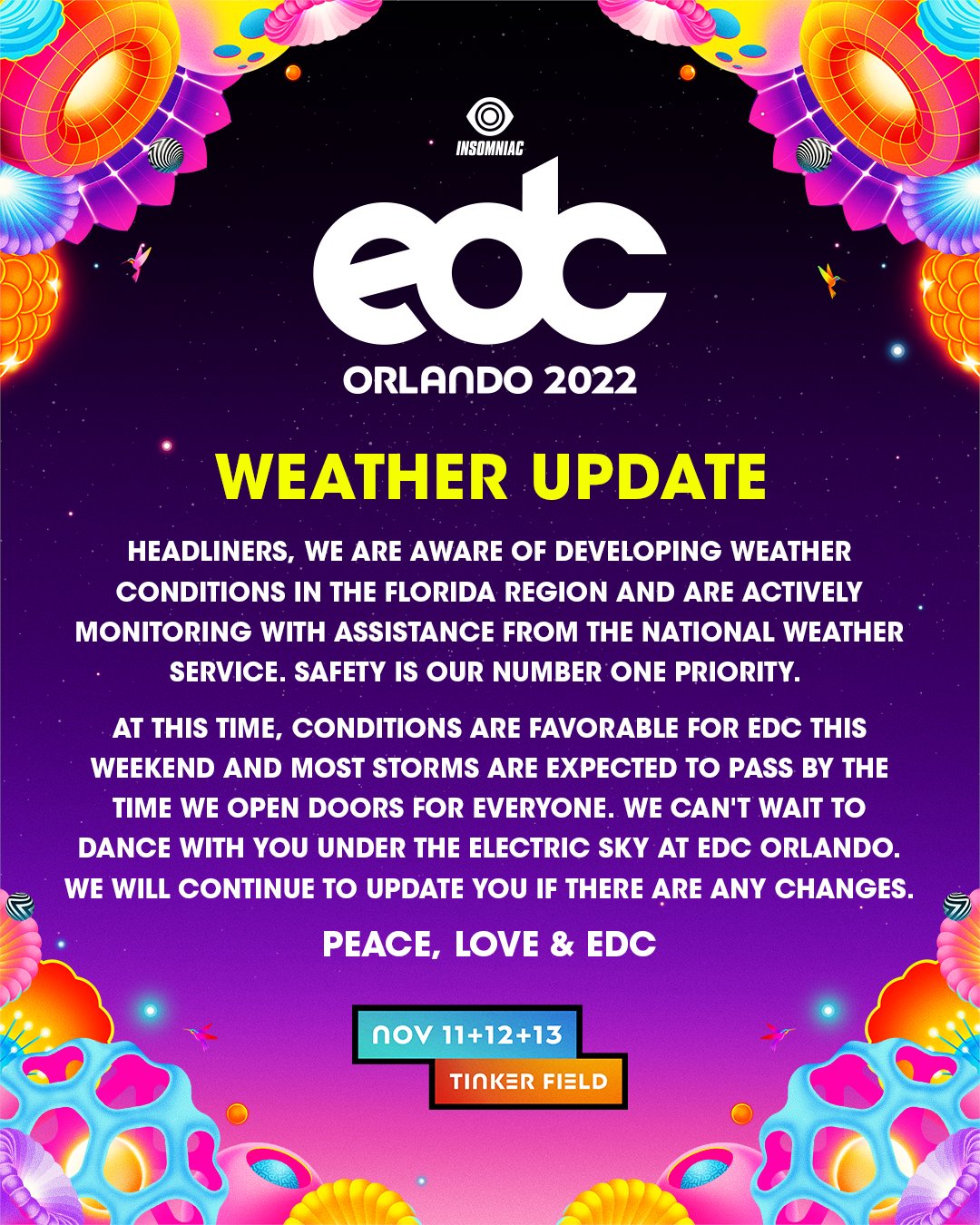 Will hurricane Nicole impact EDC Orlando 2022?
According to the last weather forecast, most of the storm should be gone before the EDC gates will open. Is EDC Orlando canceled because of hurricane Nicole? No, at the moment, EDC Orlando is planned to go ahead.
Since the passing of hurricane Nicole, Tinker Field in Orlando has been quite jolted. On Thursday morning, the area was covered in tents, signs, and other loose trash. The three-day Electric Daisy Carnival music festival, still planned to start on Friday as of this writing, has been set to take place at the location near the steps of Camping World Stadium for weeks.